Every house has a buyer. The trick is pricing the house right and focusing your marketing on the right buyers.
Focus on the positives
Every buyer isn't looking for the same thing.
Over the years, I have worked with buyers that had very specific needs who weren't just looking for typical home features and modern updates. One of my current clients needs covered parking for his 21 foot boat. Another needed a wide open unfinished basement to have space for his extensive train set. One couple nearing retirement wanted as little grass to mow with as much privacy as they could get. The 100% wooded backyard was perfect for them even though it was probably considered a negative to the many families with young children that saw the house before us.
Figure out what the positives are on your house and focus on them. If you have a huge park-like yard, take lots of pictures and prominently mention the yard in your marketing comments. If you have a neutral move-in ready house in an area surrounded by older often dated homes, make sure your pictures highlight the neutral decor.
Don't emphasize the negatives
Every house also has negatives. Finding a buyer quickly can be done if you simply highlight the positives and de-emphasize the negatives. One of my current listings has wallpaper in two of the bedrooms, lacks a dining room, has a small dated kitchen and pink carpeting with busy wallpaper in the finished basement.
How did I get 2 contracts within weeks?
I focused on the positives – the yard, pool, oversized garage and located minutes from highways at an affordable price. Both buyers chose the house because of the positives. They were aware of the negatives, but by barely mentioning these things…not hiding them…just moving on quickly, I was able to target buyers that were less likely to mind the 'trouble' spots.
Don't use trick photography
Wide angle lenses that make rooms look larger than they really are may make a great impression on the computer, but the last thing you want is for buyers to walk into a home and for their first impression to be that it is smaller than they expected. Their disappointment will leave a bad taste for them and they are unlikely to walk away with any interest in the house.

Did you notice the bent telephone pole?
This house is probably going to be a big disappointment for buyers that are expecting a spacious yard.
Think of your MLS listing as its resume. The goal of the listing is to get the home an 'interview'. But, even the greatest resume won't get a candidate hired that is all hype. Nor will misleading pictures get your home a contract.

Choose your photos wisely
It's important to display a lot of pictures on a home listing, but that doesn't mean you must show every room or angle. Small bedrooms often just don't photograph well, and rarely will buyers come see a house because they like the look of a kid's bedroom. If it takes a great picture, include it. If not, it's ok to leave that one out. Bathrooms are rooms that I only include if you are trying to make a specific point. In an older area in which many of the bathrooms are dated, showing a picture of your newly updated bathroom lets prospective buyers know up front that the bathroom won't need work.
The angle that you show of a particular room can make a big difference too. The pictures of the pink carpeted basement I mentioned above doesn't mislead you about what you will find at the house.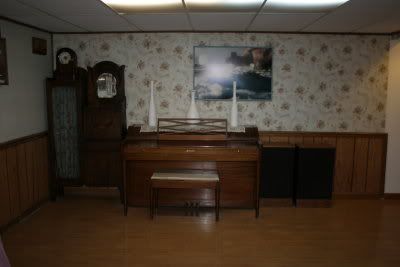 I chose not to use this picture which just made the same room look cluttered.
Every house will sell when you find the buyer that appreciates the features a house offers (assuming it is not overpriced!). So go big…really make a big deal out of the things that will make it attractive to a certain group of buyers.
If the home is perfect for single guys that want a room for parties and football games on the big screen TV, market to that single guy.
Do you know who your target buyer is?