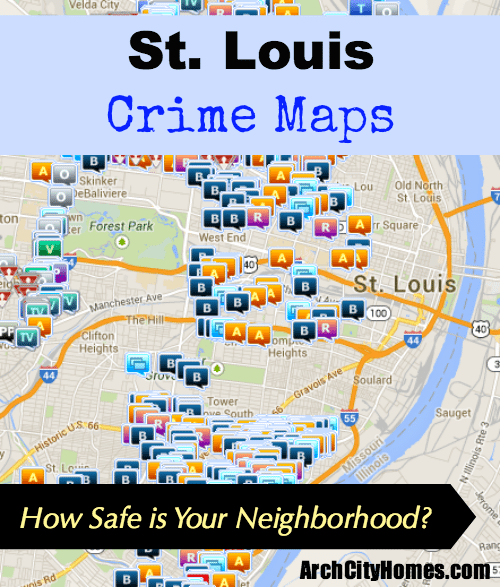 Everyone wants to live in a safe community. 
As a local resident, you need to know what is happening in your neighborhood so you can protect yourself and your property.
If you are thinking of moving, understanding how crime varies in different areas of the St. Louis region is probably a critical factor in where you will move.
Rather than relying on stereotypes about which areas are safe, you should check the local crime maps to see for yourself what is really happening. For more detailed information, contact the local police department.
St. Louis City:
St. Louis City is an independent city, separate from St. Louis County. Since the entire city is run by a single government and police department, the crime map has complete information about crime in the city. 

St. Louis City uses CrimeReports.com to display the crime data on a map.
The crime map is easy to use. You can select the types of crime you want displayed and click on an icon to get more information.
My only complaint with this map is that you can only see crime data from the last 6 months and only a 30 day range at a time.
The city does publish detailed crime statistics every month by type of crime and neighborhood. 
St. Louis County:
St. Louis County is made up of 91 municipalities and unincorporated areas throughout the county. The area is served by multiple police departments including St. Louis County Police.
Unfortunately, there isn't a single crime map that displays all of the crime statistics for St. Louis County.
Crimes against people
Property crimes
The outlined gray areas (light and dark) on the map are areas served by municipal police departments which do not report statistics to the county map. 

St. Louis County Police Department also publishes monthly statistics for their 7 precincts.
CrimeReports.com does include crime stats on their crime map for the St. Louis County municipalities of Creve Coeur, Hazelwood, Maryland Heights and Webster Groves, plus Arnold in Jefferson County. 
St. Louis County Municipal Police Departments:
Keep in mind that much of St. Louis County is served by municipal police departments and crime statistics for these areas may not be available online if they are not listed on either the St. Louis County map or CrimeReports.com.
St. Charles County:
I wasn't able to locate any crime maps for St. Charles County. Below are links to the local police departments.
Did I miss a local police department or crime resource?
Leave a comment below and I'll get it added to the information above!