If you want to stay informed of St. Louis real estate information, subscribe to the Arch City Homes weekly email so you don't miss any posts! 
The next time you are looking for a home, make sure you check and make sure the house isn't in a flood zone.
Let me be very clear…avoiding homes in a flood zone won't guarantee your basement will stay dry when it rains day after day.
But buying a home in a flood zone means more than just worrying about water. You will have to pay thousands of dollars every year in federal flood insurance premiums. The premiums for the flood zone homes I listed in the last few years have run from $2,300 – $5,000 a year.
Flood zone homes are also much harder to sell, so you could have resale issues.
I've actually had a lot of success at getting flood zone homes successfully sold for my clients, but the flood zone status does lower the price and increases the time it takes to sell. 
Of course, the biggest reason to avoid flood zone homes is that you are more likely to have your house flooded with water!
You might be surprised to discover that there are flood zones throughout the St. Louis area. Our region is peppered with creeks which are often dry except during the spring rains. But, when we get tons of rain like we are getting right now, they will not only fill up, but can spill over into the adjacent land…and nearby homes.
The map above shows a flood zone overlay on the St. Louis map that I can access through the MLS system.  When I am working with a buyer, I always check to make sure homes my clients are considering aren't in a flood zone.
The purple areas in the map above are in the 100 year flood zone, which requires FEMA flood insurance if there is a loan on the house. If you don't have a loan, then you can opt out of the flood insurance, but you will also be out of luck if your flood zone house does get flooded.
The yellow areas are in the 500 year flood zone areas, and do not require FEMA flood insurance. That said, they are still more likely to flood than homes in the orange areas, and if the flood zone maps change…which they do from time to time…you could end up in the 100 year flood zone.
Closer Look:
Take a look at the maps below of Ballwin and University City. These maps show just 2 of the areas that have plenty of homes in flood zones even though they are nowhere near the Missouri or Mississippi Rivers.
University City: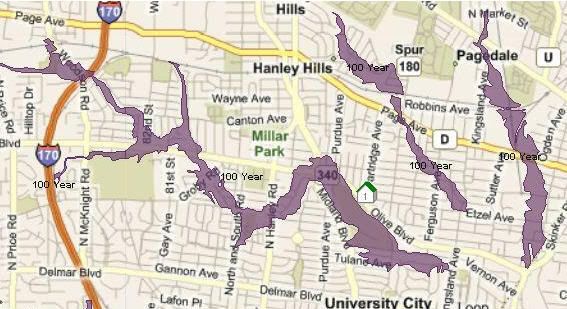 Ballwin: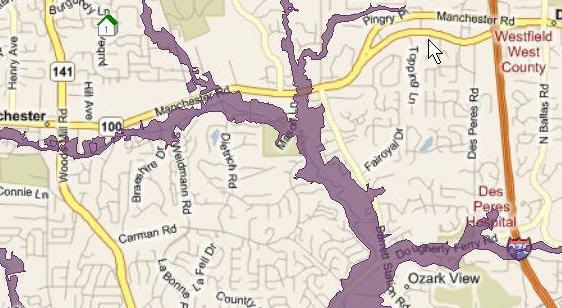 How Often Do Flood Zone Homes Actually Flood?
There is a 1% chance each year that a home in a 100 year flood zone will flood that year. Homes in a 500 year flood zone have a much lower change of flooding each year (0.2%).
You need to understand that that odds are that it will be 100 years between a 100 year flood and the next one, but it could also happen 2 years in a row.
We've had two 100 year floods in the last 45 years. One in 1973 and again 20 years later in 1993. Maybe it will be another 100 years before the next big flood, but it could also be this year if the rain doesn't stop soon.
Are You Thinking About Moving?
I specialize in selling St. Louis homes regardless of whether they will be the hot listing to hit the market or if they have a challenge that makes it much harder to sell.
I also work with buyers who want to find the home of their dreams, but don't want to overpay.
If you are thinking of buying or selling a home in the St Louis area, give me a call at 314-265-8073 and let's talk about your options.