Everyone knows real estate sales are down. And most people have heard the slogan that real estate is all about Location, Location, Location.
Location is definitely important. (NOTE: Location means not only the subdivision and part of town, but also if the house is on the corner of the busy street or backs to a commercial building.)
But, there are 2 other important factors when selling a home in a buyer's market.
Condition, Condition, Condition
Most buyers today want a house that is move-in ready.
Move-in ready means:
fresh paint including molding and trim

flooring that isn't stained, scratched or worn

kitchens and bathrooms that have cabinetry that is moderately updated (it doesn't have to be the latest trend, but shouldn't be 15 years old either)

NO wallpaper

clean!
If buyers see a home that appears to be a lot of work, even if it is just paint and replacing the brass light fixtures, they will keep looking for a house that doesn't need anything to feel like home.
Price, Price, Price
After listening to the media repeat over and over that the sky is falling in real estate for the last year, buyers are afraid that they will buy a house and it will be worth less next year. As a result, they simply are not willing to go out on a limb and buy a house that seems even slightly overpriced.
Buyers will decide for themselves which home offers them the best value. When they find the house with the best features in the best location at the best price, they'll make an offer.
Selling a House in 2 Days in a Buyer's Market
If home sellers make sure that their house shows as well as it possibly can, and then prices it appropriately for the area and features, it should sell easily.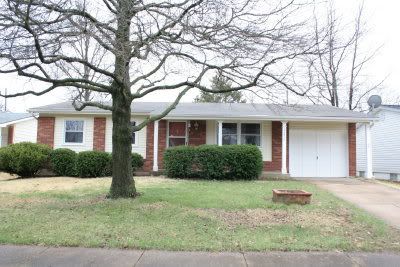 Earlier this month I listed a starter home in Maryland Heights. The home has only 1 1/2 baths in an area that is surrounded by homes with 2 bathrooms.
When I initially walked through the home, I noticed some peeling exterior paint, post-college style furniture that made the small house look even smaller due to cramming too much into small spaces, and original 1960s bathrooms with pink & peach tiles.
I had a gentle but candid conversation with the owner about what needed to be done to get the house ready to go on the market. She was also very realistic about the price she could expect for a house without a full master bath, even if it was in great condition.
My seller did everything I suggested. She updated the bathrooms, installed new pergo flooring in the basement over the peeling vinyl floors, rearranged the furniture, found a place to store the 2 leaves that made the kitchen table too big for its space, and even took all the magnets off of the refrigerator. She embraced EVERY suggestion that I made, and the house showed great.
Guest what…we had a contract in 2 days! Less than a month after going on the market, she'll be walking away with a check for her sale proceeds.
Could we have listed it higher? Sure. But it would have been overpriced and the buyers would have known it. And, we wouldn't have sold in 2 days. It probably wouldn't have sold in 2 months either.
Price a home right, fix it up and make it move-in ready, and get ready to pack your bags.