If you are trying to decide where to buy your next home, one of the questions you are probably asking is how good are the public schools. While there are plenty of websites which rank schools, determining which is the best St. Louis school isn't as simple as going to a school ranking website.
Don't you wonder how these websites decide what are the best schools?
And do you agree that these are the most important factors in picking a school?
Many school ranking sites will look at college attendance rates and ACT scores. But what about class size? Percentage of kids expelled for disciplinary actions? Teacher years of experience?
Most of these factors are simply not included in the ranking formula used by national school ranking websites.
Rather than just looking for the best school, you need to look for the best school for your family.
Maybe you have children who plan to attend competitive colleges and need to be in a school that offers extensive advanced placement courses. Maybe you have children who are likely to attend vocational programs after high school and you want a school that has a high placement rate of success. Maybe you want your child in a diverse school environment, or a school with a low percentage of low-income children.
For families on a tight budget, finding the best schools in areas they can afford to live is important. Looking at the number of children receiving free or reduced rate lunches can help families needing affordable homes compare schools that will have housing in their price range.
St. Louis High School Performance Statistics & Demographic Data:
The Missouri Department of Education provides a school report card for each public school which includes extensive information about the children attending the school and how they are performing. It includes information on teachers experience and compensation, and how much money is spent on each child.
School report cards include:
Number of students

Racial demographics
Attendance rate
Number of children receiving free or reduced price school lunches
Graduation rate, including the number of kids that graduate in 4 years
Dropout rate
College and post-secondary education rates
Placement rates for technical education students
Staffing ratios
Years of experience for professional staff
Professional staff with advanced degrees
Teacher salaries
Administrator salaries
MO Assessment Program (MAP) results
ACT results
Disciplinary actions – suspensions over 10 days and expulsions
In order to get you started, I have put together a summary of some key factors to give you a snapshot of each St. Louis public high school and how they are performing.
Are your kids elementary or middle school age? 
With so many elementary and middle schools, the best way to pick a district is to look at the high school results since every child eventually moves on to high school. If the school does a good job with the younger kids, it will reflect well in the high school stats. Once you identify the districts you are interested in, you can then learn more about the elementary or middle schools by looking up their report cards.
Comparison Charts for St. Louis Public High Schools:
If you are trying to find the best schools in the St. Louis area for your family and are new to the area, or maybe you just don't know how the local schools perform, then start with the summary sheets below to identify which schools you want to investigate further.
Long-time residents who are familiar with the local school districts should also take a look at the summary sheets.  Often our perceptions of a school district doesn't match the current reality, and you might be overlooking a school that opens up your options for where you can live.
St. Louis County High Schools: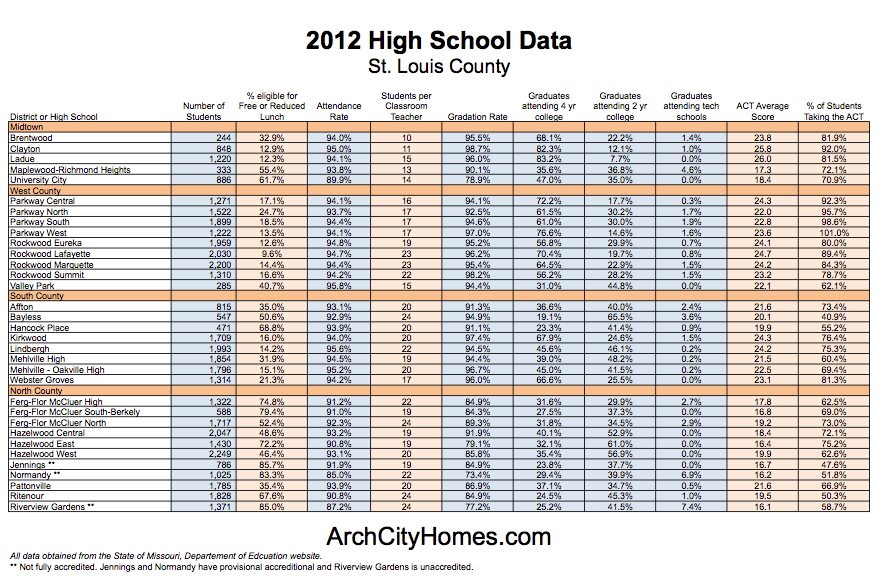 St. Louis City, St. Charles County, Jefferson County & Franklin County High Schools:
NOTE: These charts are copyrighted. You are welcome to download the charts for your own personal use, but you are NOT allowed to republish the charts or the data. You may publish the screenshots above and link to this website. 
St. Louis High School Report Cards:
Once you've narrowed down the schools you want to consider, take a look at the high school report cards below for each of the schools. These reports provide information for the last 4 years so you can see if a school is improving, remaining stable or developing problems.
The best way to find the best school for your family is to review this information for yourself and find a school that matches your needs!
Once you have it narrowed down your school selection to a few areas, you can search homes for sale by high school to help you decide if you will be satisfied with housing in the areas. And if you need an agent to help you find the right home for your family, we can help you with that!
St. Louis City:
Many of the St. Louis City Public Schools are magnet or choice schools, and enrollment is determined by a lottery. If you are considering the city schools, take a look at the Magnet School Guide.
Beaumont CTE
Carnahan School of the Future
Central Visual – Performing Arts
Cleveland NJROTC Academy
Gateway
McKinley Classical Leadership Academy
Metro
Miller Career Academy
Roosevelt
Soldan International Studies
Sumner
Transportation and Law
Vashon
St. Louis County:
Affton
Bayless
Brentwood
Clayton
Fergonson-Florissan McCluer
Ferguson-Florissant McCluer North
Ferguson-Florissant McCluer South Berkeley
Hancock Place
Hazelwood Central
Hazelwood East
Hazelwood West
Jennings
Kirkwood
Ladue
Lindbergh
Maplewood-Richmond Heights
Mehlville High
Mehlville Oakville Sr
Normandy
Parkway Central
Parkway North
Parkway South
Parkway West
Pattonville
Ritenour
Riverview Gardens
Rockwood Eureka
Rockwood Lafayette
Rockwood Marquette
Rockwood Summit
University City
Valley Park
Webster Groves
St. Charles County:
Francis Howell Central
Francis Howell High
Francis Howell North
Ft. Zumwalt East
Ft. Zumwalt North
Ft. Zumwalt South
Ft. Zumwalt West
Orchard Farm
St. Charles High
St. Charles West
Wentzville Holt
Wentzville Timberland
Jefferson County:
Fox Seckman Sr
Fox Sr High
Northwest
Windsor
Franklin County:
Meramec Valley
Union
Washington
More St. Louis school information including maps, links to district websites, private school and special education information…