As I continue my Exploring St. Louis One Meal at a Time series, today I'm sharing one of my new favorite pizza places, Serra's Pizzeria in Maryland Heights.
If you want to stay informed of St. Louis information, subscribe to the Arch City Homes weekly email so you don't miss any posts! 
I actually ate at Serra's Pizzeria for the first time about 10 years ago. My boyfriend at the time lived in Maryland Heights and he loved Serra's.
Serra's Pizzeria is not going to impress you with the decor. They probably haven't redecorated since the place opened in 1970. But if you are looking for an unpretentious atmosphere with friendly staff and great food, you should give Serra's a try.
I recently went to dinner with some social media friends, snapped this picture that gives you a feel for what you will find when you walk through the door.
As the signs indicate, this is an Anheuser Busch type of place. You aren't going to find craft beers when you visit Serra's. They do have a well stocked bar though if you would rather go with a cocktail.
Serra'a is a family owned business too. My favorite kind of place.
The Food:
Serra's menu includes appetizers, salads, sandwiches, pasta and entrees. But Serra's specialty is their St. Louis style thin crust pizza topped with provel cheese.
A couple of months ago as I was getting ready to list a new condo just a block away, the owner and I headed to dinner after one of my visits. And of course we went to Serra's.
I was so floored by the pizza with its crisp thin crust and house made bacon and Italian sausage toppings that I have been back twice in the last month to introduce friends to Serra's.
On one of my visits, I ordered some cheese garlic bread…which I normally love. I think it was just ok here and probably would opt for something else on my next visit.
I also ordered a salad on one of my visits. Again, it was ok, but nothing to write home about.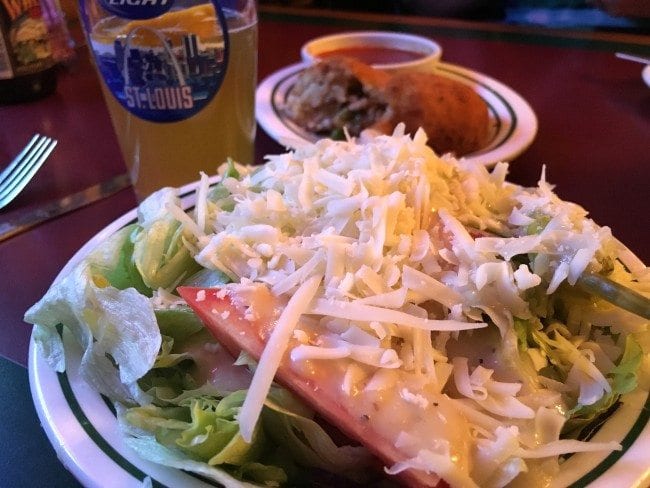 However, the arancini, a stuffed rice ball appetizer was a definite winner. It is stuffed with meat sauce, peas and cheese, then rolled in bread crumbs and deep fried.
I also snapped a picture of the pasta with mushroom sauce, ordered by my friend Janice. I didn't taste it but she said it was spectacular.
Living in Maryland Heights:
Maryland Heights is a great place to buy a home in St. Louis region.
Maryland Heights is served by the Pattonville School District and the Parkway School District, one of the best public school districts in the county.
The city has a number of recreational amenities including a Community Center which offers a fitness center, courtyard and auditorium available for events. A new Community Center is under construction now and will have expanded services. The city also has a summer Aquaport and a dog park.
The city is also home to 7 parks, including Creve Coeur Park, one of the most popular parks in town.
Demographics:
Housing:
You get a lot of home for your money in most portions of Maryland Heights, and it's easy to find an affordable home.
In 2015, there were 358 home and condo sales listed by an agent.
Home Sales Prices in 2015:
$100,000 or less – 15%
$100,000 – $200,000 – 73%
$200,000 – $300,000 – 11%
$300,000 or more – 1%
The vast majority of homes are 30-55 years old, built in the 1960s to 1980s.
Are You Thinking About Moving?
I specialize in selling St. Louis region homes regardless of whether they will be the hot listing to hit the market or if they have a challenge that makes it much harder to sell.
I also work with buyers who want to find the home of their dreams, but don't want to overpay.
If you are thinking of buying or selling a home in the St Louis area, give me a call at 314-265-8073 and let's talk about your options.