Earlier this month, I wrote a post outlining the type of inspections that home buyers should consider before purchasing a home.
Choosing your building inspector carefully is just as important as deciding to get the inspection. After assisting over 140 buyers in the last 6 years as they purchased a new home, I've seen great inspectors and inspectors that I would never want to use again.
Before you choose your building inspector, make sure you ask the right questions.
Questions to Ask Before you Pick Your Inspector:
1. Are you ASHI certified?
Home inspectors in Missouri don't have to be ASHI certified. There may be quality inspectors that aren't certified, but if it was up to me, I'd rather use the inspector that agreed to take the required continuing education classes and adhere to industry standards.
2. What will you do if you miss something?
Make sure your inspector has been around for awhile, carries errors and omissions insurance, and backs up their work.
One of my current clients is buying a house that was purchased by the owners earlier this year. Due to personal issues, the sellers only lived in the house for 3 weeks and then put it back on the market just 3 months after they bought it. The sellers provided us a copy of their building inspection before we made an offer, and we expected that the inspections would go well since it was just inspected about 4 months ago with no major problems noted. Surprise surprise – the previous building inspector completely missed that there was an electric subpanel in the basement stairway. Our inspector took one look at it and said it needed to be replaced. The other agent called the inspector she had arranged (since she had helped them buy the house). He agreed to come back and make it right, but then tried to weasel out of replacing it…saying it only needed some minor repairs. So not only did he completely MISS that there was a subpanel, but he isn't taking care of his mistake.
Oh…he missed a bunch of other minor items too. Or a TON of things broke in the last 4 months. Which do you think is more likely?
3. Do you include pictures in your report?
In today's age of digital cameras, there is no excuse for a report that lacks pictures to clarify the problems and show the buyer areas that they can't go (the roof and attic). It also makes it hard to dispute that a repair needs to be made when you can see exactly what the inspector identifies as a problem.
Here are just a couple of pictures from my buyers' home inspections.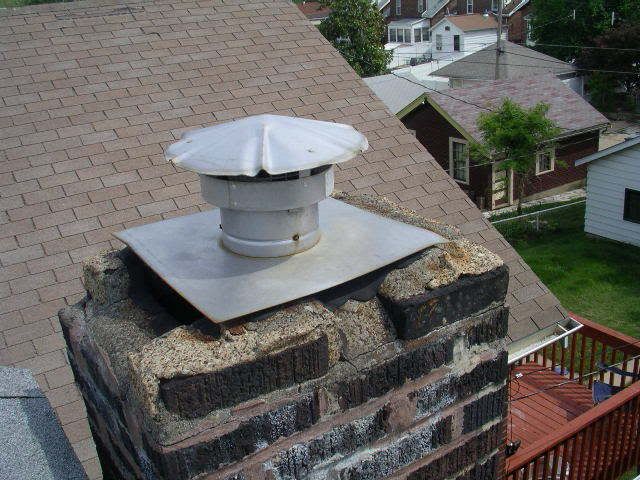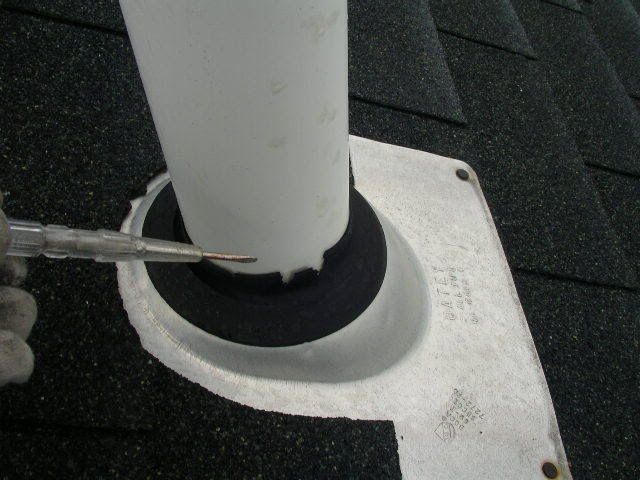 4. Do you have an option for a narrative report instead of just a checklist?
Like pictures, narrative reports are easier to understand and more effective at helping sellers understand why a problem really needs to be fixed.
One of my recent clients bought a 100 year old home that had been completely rehabbed. We were told that it had a 6 month old roof. These comments helped us get a new proper roof installed:
We noted membrane type roofing material with only an overcoat of tar. This has resulted in air pockets at various locations throughout the roof (picture 6921). We noted improper flashing details at the parapet walls, masonry chimneys and the flue and vent pipes (picture 6922, 6923, 6924). We also noted loose or improperly sealed flashing material at the parapet walls (picture 6925). This roof appears to be a temporary roof only and we recommend close monitoring for eventual replacement and repairs in the interim by a qualified roofing contractor.
5. Do you climb on the roof?
There is too much that an inspector can miss when the roof is only viewed through binoculars. If your inspector doesn't plan on walking on the roof, I highly recommend you pay for a roof inspection by a roofing contractor. But, there really is no reason that your inspector shouldn't walk the roof unless the roof is made of slate or clay tile, it is too steep or high to be done without specialized equipment, or it is covered in ice or snow.
Speaking of ice and snow, if you are buying  a home in the winter, you may want to ask your inspector if he would be willing to come back if the weather warms up enough in the next week so that the roof can be seen safely.
6. Do you check every outlet and window, or just a representative sampling?
ASHI only requires that one outlet and window is checked per room. But, I sure would be unhappy if I paid an inspector to thoroughly check my new home, and I discovered after moving into the home that the only outlets that work properly are the ones that the inspector checked. A good inspector will check every outlet and window that isn't blocked by furniture.
Unless you are buying a home as-is and are prepared to deal with surprises, almost everyone should get a building inspection.
Even if you are buying as-is, you, can often include a contract contingency that allows you to get inspections and to terminate the contract if you aren't satisfied with the results.