A few days ago, I had about 5 inches of snow sitting on my roof. I recently had my roof inspected, so I wasn't concerned that the melting snow would cause any leaks.
Do you think this roof leaked during our recent snow???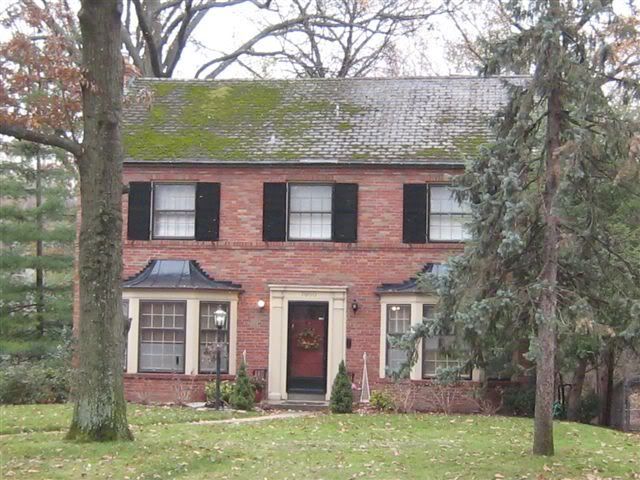 I drive by this home every day…it's a few blocks from my house. I hope they stayed dry, but I doubt it.
I'm always surprised by how many homeowners neglect the maintenance of their roof. Almost every home inspection reveals something wrong with the roof (including new construction homes!).
Typical Roofing Problems include:
High nails – roofing nails can sometimes move upward and push on the shingles. If not hammered back down, they can punch through the shingles resulting in holes…and leaks.

Split shingles – broken or cracked shingles give water a place to leak into your home.

Flashing – flashing is the metal that is installed by sliding it under the shingles where the shingles meet up with an edge (including chimneys and plumbing vents). Improperly installed flashing can allow water to leak underneath the shingles.

Improper installation practices –

roofers may use walk-boards when they are putting on a new roof (2×4 lumber that is nailed through the shingles to give the roofers a solid foothold while working on the roof), and they often fail to replace the shingles with nail holes after they remove the walk-boards. We find this

often

on new construction homes. You NEVER want any nails to be hammered through the shingles.
For more information on what to look for on your roof, check out this article.
Roof Maintenance and Replacement:
An asphalt shingle roof in the St. Louis area typically lasts between 15-20 years. With regular roofing maintenance, your roof should be able to protect your home for many years.
Unless you have experience in roofing, consider hiring a roofing company to come out and inspect the roof annually. Roofing inspections are usually $150 or less, and the cost can sometimes be applied to any repairs that you might need to make.
However, every roof will eventually need to be replaced.
If your roof is really do for replacement, winter is a great time to get it replaced. Roofers aren't very busy, but can still find days when the weather will cooperate and they can replace a roof. If you were planning on replacing your roof in the next year, you may want to go ahead and call roofers for a quote for a winter replacement. Make sure you let them know you are getting multiple bids, and you should be able to get a discount for off-season work.
If you need a referral for a reputable roofer in the St. Louis or St. Charles area, contact me for some roofers you might want to contact. Be careful about who you use…there are plenty of roofers that don't follow roofing manufacturing specifications and will be out of business when you follow up for warranty repairs. For some additional pictures of what can go wrong, check out this roofing website.