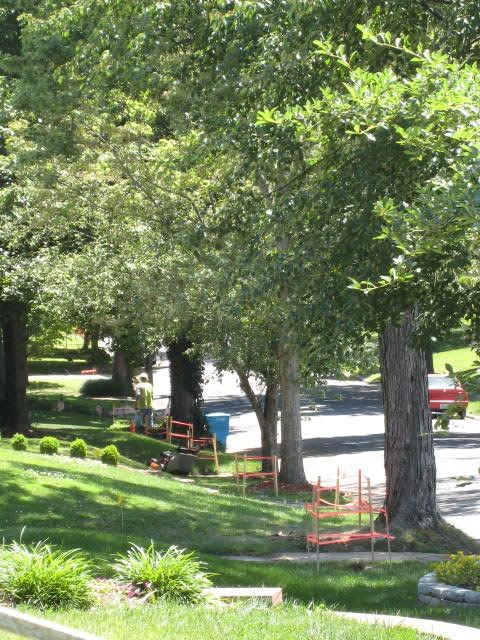 This morning I woke up to the sound of construction equipment.
If you ever thought that strangers couldn't suddenly show up one day and just dig up your yard, you are wrong!
Most properties have at least one utility easement within their boundaries. I happen to live on a street with 50 to 80 year old homes. The utilities access the homes via telephone poles. Having your electric and cable exposed among all the mature trees does make me and my neighbors more likely to lose power during a major storm than my friends living in the newer subdivisions with underground utilities, but you might think that it also means there is no reason to come dig up our yards.
Not true!
I happen to live on a street that has streetlights. Apparently something broke and they aren't working. So, the electric company is here digging small holes in the front yards of about 12 homes so that they can run new electric and get the lights back on.
I'm actually lucky. The streetlight happens to be in my next door neighbor's front yard and they are fixing the line from the other direction. So, even though the construction equipment will be blocking my driveway all day, they won't be digging up the expensive stone path and landscaping lighting that I installed last year. It never even occurred to me when I put in my landscaping that it was probably in an easement and could be removed at any time if the utility company needs to do some work.
Next time you are thinking of installing landscaping, decks, patios…you really should locate the survey you obtained when you bought your house and see if there are utility easements on your property.