City Museum in St. Louis, MO

City Museum is a one of a kind museum.
The City Museum is not only a museum, but it is also an indoor-outdoor playground and offers arts & crafts classes for kids.
The City Museum site describes itself best:
Housed in the 600,000 square-foot former International Shoe Company, the museum is an eclectic mixture of children's playground, funhouse, surrealistic pavilion, and architectural marvel made out of unique, found objects. The brainchild of internationally acclaimed artist Bob Cassilly, a classically trained sculptor and serial entrepreneur, the museum opened for visitors in 1997 to the riotous approval of young and old alike.

Cassilly and his longtime crew of 20 artisans have constructed the museum from the very stuff of the city; and, as a result, it has urban roots deeper than any other institutions'. Reaching no farther than municipal borders for its reclaimed building materials, CITY MUSEUM boasts features such as old chimneys, salvaged bridges, construction cranes, miles of tile, and even two abandoned planes!
The museum attractions include the Enchanted Caves, MonstroCity (the outdoor playground), World Aquarium, Toddler Town, Art City, an 11 story spiral slide (plus a bunch of other slides), an underground tunnel and more.
In 2009, the rooftop was opened to the public. I finally got a chance to check out the roof during my November visit during one of their Flashlight Fridays (they dim the lights at 11 PM and encourage visitors to bring flashlights for the dark corners). The video below includes some shots from the roof featuring the school bus which hangs over the edge of the roof, a 3 story slide and a ferris wheel.
Though the museum is a great place to visit with kids, it is also a favorite with adults. Open until 1 AM on Friday and Saturday nights, you'll find many adults cooling off with a drink in the Cabin Inn bar and enjoying the live music after a few hours of crawling, climbing and wiggling through tight spaces.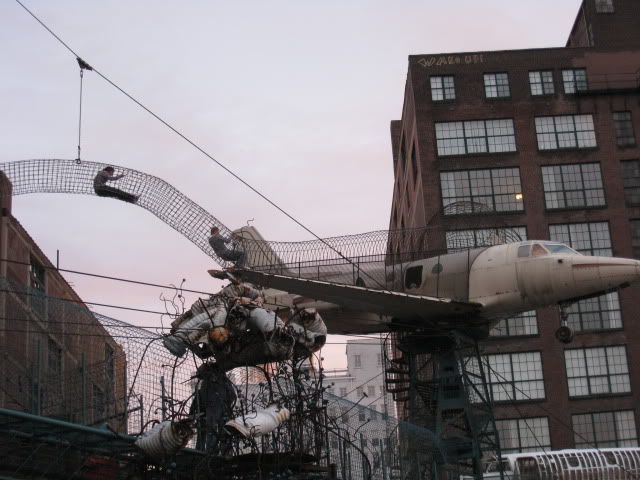 If you are considering relocating to St. Louis, and want your kids to get excited about moving, make sure you squeeze in a trip to the City Museum on your house hunting trip. They will have a ball.
Video shot using a Flip Video Camera