Today was both a joyful and sad day in University City.
Witnessing History:
I spent my 50 minutes in line waiting to vote this morning talking with a mother that was bursting with joy over participating in this historic Presidential election. The woman in line behind me brought her elementary school aged son and teenage daughter with her so that they could witness history. The young man bopped around as we waited, taking pictures of everything he could so he would have a memento of this historic day.
Looking around, I was reminded that my choice to buy a home in University City was a great decision. The racial, religious, ethnic and socio-economic mix of people standing in line, patiently waiting to cast their vote, made me proud to be a resident of UCity.
As I left the high school after voting, I looked across the street to Jackson Park elementary school, another polling place. While I had waited in a line inside the high school that wrapped around the hallways on two floors, the line across the street was a more vivid image of the huge turnout for this election. The line started near the front door, then wrapped around the entire building to an entrance off the back.
I walked to my car proud of my neighbors that they were willing to wait however long it would take to cast their votes.
Police Officers Paying their Respects:
As I drove away, my focus quickly turned from joy to sadness.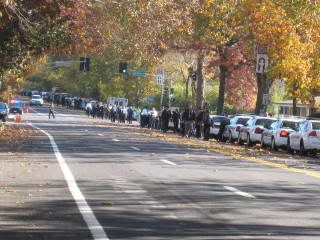 Last Friday, as children in Halloween costumes knocked on doors asking for candy, University City police officer Michael King was shot and killed as he sat in his patrol car in the UCity Loop.
This morning, police officers converged on University City to attend Sgt. King's funeral. On a busy day when most of the country was trying to figure out how to carve out the time in their schedule to vote, police officers from all over the region took time to pay their respects.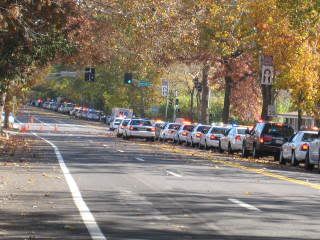 The main street through University City, Delmar Blvd, was closed eastbound for about a mile with police cars double-parked as they attended the funeral. Watching the stream of officers emerge from the church and walk toward their cars was sobering. The long line of police cars with flashing overhead lights as they prepared to proceed to the cemetery was unbelievably moving. I was fortunate to be able to take a few pictures to share with you.
For years I've been meaning to become a member of Backstoppers. Now I am. I hope you'll join me.
Backstoppers is an amazing organization that provides financial support to the families of police officers, firefighters, EMTs and paramedics that are killed in the line of duty. Within hours of a death, Backstoppers provides a check for $5,000 to families to get them through the days ahead. Later, they pay off mortgages, credit cards, car loans, provide health insurance, funds for each child for school expenses, and holiday gift money. Backstoppers even pays for college for the children and spouses.
Sadly, Backstoppers has been needed too much lately. The family of Michael King is the 6th family to receive help in 2008.
I know that the economy is bad and everyone is cutting back. If you are in a position to make a donation, I'm sure that Backstoppers could really use the help supporting these families.
On a positive note, the local news took a break from election returns a few minutes ago just long enough to say that the killer of Michael King was arrested. And tomorrow, all of the campaigning will be over and we can get on with trying to find solutions to the troubling economy. Living in the swing state of Missouri, I'm definitely ready for the robo-calls by both campaigns to stop.